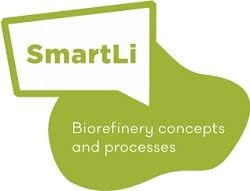 SMARTLI
Currently, almost all aromatic chemicals and building blocks originate from fossil fuels like oil. Lignin is a phenolic natural polymer with the potential to replace these non-renewable resources.
SmartLi will develop valorisation routes for lignin, creating materials – notably composite materials and resins - with the potential to replace those that presently depend on fossil raw material sources. Importantly, it will source them from underutilised lignin by-products from pulp and paper industry.
SmartLi will add value to the underexploited biomass sidestream lignin and deliver quality homogeneous raw materials for users. At the same time, it will reduce dependence on fossil fuel based raw materials and enhance sustainability by reducing greenhouse gas emissions.
The project is one of the relevant initiatives supporting the development and uptake of bio-based products at European and regional level identified by BIOWAYS. They have collaborated with BIOWAYS by providing valuable insights into their work and meaningful evidence and information regarding a series of areas such as their expected outputs and market uptake, the legislation and policy framework that affects them, the user's perspective on their outputs and the impact, visibility and exploitation potential of their project/outputs.
Website