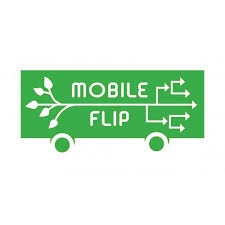 MOBILE FLIP
MOBILE FLIP aims at developing and demonstrating mobile processes for the treatment of underexploited agro- and forest based biomass resources into products and intermediates. The processes will be evaluated in terms of raw material flexibility, as the biomass resources are typically scattered and seasonal. Process concepts have been designed around the key technologies pelletizing, torrefaction, slow pyrolysis, hydrothermal pretreatment and carbonisation.
The products vary depending on the process concept, being typically fuels as such or for co-combustion (pellets, torrefied pellets, biocoals), biochars for soil remediation, biodegradable pesticides for agricultural or forestry use or chemicals for wood panel industry and sugars and hydrolysable cellulose as intermediate for the sugar platform. Some of the products are marketable as such, while some others are intermediates to be further valorised by integrated large industries. In the latter case, the mobile unit pre-extracts the valuable components or densifies the biomass to reduce transportation costs.
Over-the-fence integration to large industries will be one means to ensure the availability of utilities, such as steam and electricity, whereas in some mobile process concepts the utilities can be produced at site for internal or external uses.
The project is one of the relevant initiatives supporting the development and uptake of bio-based products at European and regional level identified by BIOWAYS. They have collaborated with BIOWAYS by providing valuable insights into their work and meaningful evidence and information regarding a series of areas such as their expected outputs and market uptake, the legislation and policy framework that affects them, the user's perspective on their outputs and the impact, visibility and exploitation potential of their project/outputs.
Website