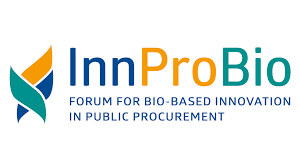 InnProBio
InnProBio, the Forum for Bio-Based Innovation in Public Procurement, aims to develop a community of public procurement practitioners interested in innovative bio-based products and services.
By harnessing the potential of public procurement to foster innovation, InnProBio aims to work with the public sector to develop tools for purchasers, facilitate the creation of buyers' groups, and increase awareness and incentives in order to lower the barriers to purchasing. Thus, leading to the opening of new markets of bio-based products in Europe.
InnProBio is an EU funded three-year project which began in March 2015. It is funded by the European Commission's Horizon 2020 Programme.
The project is one of the relevant initiatives supporting the development and uptake of bio-based products at European and regional level identified by BIOWAYS. They have collaborated with BIOWAYS by providing valuable insights into their work and meaningful evidence and information regarding a series of areas such as their expected outputs and market uptake, the legislation and policy framework that affects them, the user's perspective on their outputs and the impact, visibility and exploitation potential of their project/outputs
Website