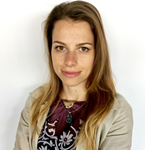 Ms. Ivona Nespalová, Energochemica Trading a.s.
Ivona Nespalová is a manager for project financing in ENERGOCHEMICA TRADING a. s., Slovakia. She received her master degree from strategic management from Comenius University in Slovakia in 2011. Ivona has started to work in the area of marketing and sales for different companies.
Today she works in a team of young people responsible for external project financing, what requires reviewing bank loan offers, communication with Ministries and Municipalities, PR in relation to planned projects, preparing and submitting project proposals in different grant schemes (mainly Horizon 2020). From the other side her work requires coordination of running projects and securing the compliance with the rules of funding authorities. Furthermore she is responsible for drawing up systems that will ensure compliance with legislation (sustainability, GMO use).
Ivona is active in biobased economy initiative. She is a member of Programming Core Team and Programming working group of Biobased Industries Consortium helping to accelerate the innovation and market uptake of bio-based products. As a member of the working group she facilitates to position Europe as a world-leading, competitive bio-based economy where the basic building blocks for chemicals, materials and advanced biofuels are derived from renewable biological resources.