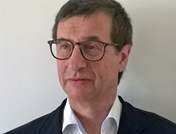 Mr. Huw Parry, Network New Europe Ltd and SteamBio Ltd
Huw Parry is founder and director of Network New Europe Ltd. He is also the founder and owner of SteamBio Ltd. Huw identified that the enabling technologies and the market opportunity for SteamBio in 2014. He wrote the application for funding with support from Fraunhofer IGB and since the project started has driven its market exploitation.
As the SteamBio project has progressed he recognised that the market opportunities are greater than originally envisaged with opportunities for decentralised biorefineries located in remote rural locations with local ownership under franchise type relationships able to respond to local agro-forestry residues and biochemical market opportunities. Huw has worked in technical roles within industry and commercial roles within the research sector, he is familiar with both the public and commercial funding environments.