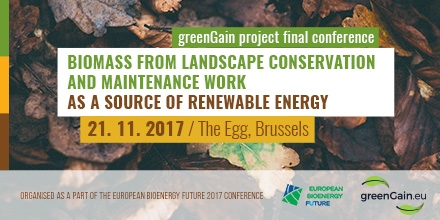 greenGain project Final Conference
BIOMASS FROM LANDSCAPE CONSERVATION AND MAINTENANCE WORK AS A SOURCE OF RENEWABLE ENERGY
greenGain project is organising its Final Conference "BIOMASS FROM LANDSCAPE CONSERVATION AND MAINTENANCE WORK AS A SOURCE OF RENEWABLE ENERGY", under the frame of the annual conference European Bioenergy Future (EBF) organised by the European Biomass Association (AEBIOM).
greenGain final conference is taking place in Brussels, on the 21 of November 2017 from 8.30 to 13.00.
Participants will have the opportunity to learn how to increase market uptake of biomass residues originating during landscape conservation and maintenance work for renewable energy production.
TOPICS addressed in the Conference are:
Exploring the potential of these biomass sources
Looking for best ways how to utilize them
Analysing related policies, governance and economic frameworks
Sharing experiences from various regions across the EU
Access to the Programme of the Conference and REGISTRATION form HERE