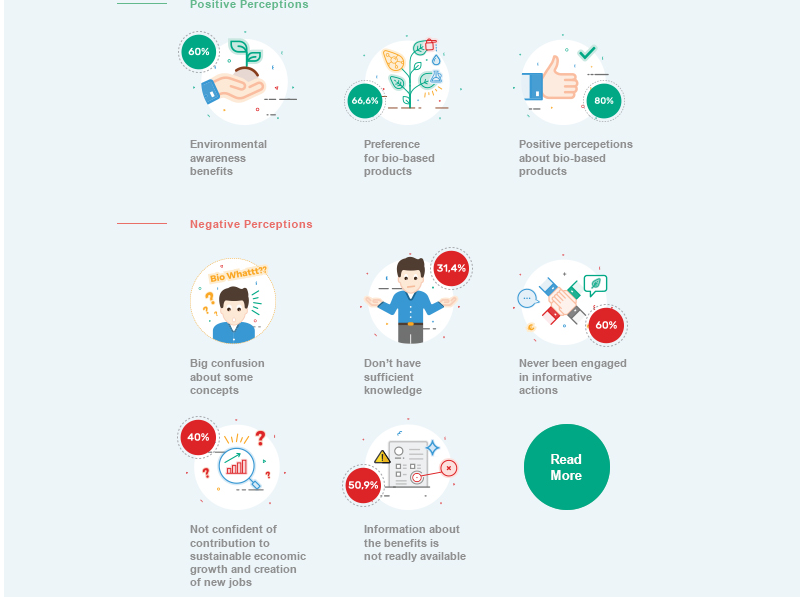 Public perception of BBPs and the bioeconomy - Findings from BIOWAYS analysis
In May 2017, BIOWAYS ran an online survey to assess the level of public awareness on bio-based products and the perception of the bioeconomy in general. More than 450 respondents across Europe participated in the survey, sharing their opinions and perceptions about the bioeconomy and bio-based products. From the outcomes, it was clear that although consumers generally have a positive impression of bio-based products, they need access to more information about them. More specifically:
80% of those surveyed stated that their overall perception of bio-based products is positive and more than 60% seemed to be aware of the environmental benefits of using them over their non-bio-based equivalents.
Most of the respondents (66.6%) clearly expressed a preference for bio-based products over their non-bio-based equivalents.
There appeared to be some confusion amongst the public regarding the term "bio-based products", which was associated incorrectly with the term "organic products".
The responders identified some bio-based products, but were not aware of the existence of several others and their applications.
31.4% of the responders believed they didn't have enough knowledge of bio-based products. Over 60%, claimed that they had never been engaged in informative actions relevant to bio-based products and the bioeconomy.
40% of the sample were not confident that the use of bio-based products contributes to sustainable economic growth and the creation of new jobs.